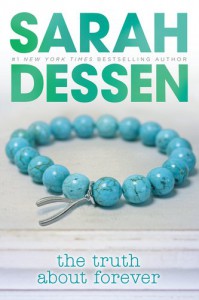 When I saw Tina's reviews of Sarah Dessen's books in Goodreads, I figured this could be what I've been looking forward to read. It was recommended that I add in my list, the title, "The Truth About Forever." It was five stars in her rating, so I said "why not?"
Amazing the timing was, I started reading this on my father's birthday, to which I celebrate it by reminiscing good old memories. Every memory that Macy was sharing felt so nostalgic, one that I could relate even if it may not be too similar.
"I hated that I was in this situation, I hated that my dad was gone, I hated that I'd been lazy and sleepy and had waved him off when he'd come into my room that morning,"
I read everything slowly, trying to grasp every bit of it little by little. With the balance of different characters mashed with the lead character, I started finding it too shallow to read further. Truth is, I was in denial. All the hurt from the past came back and I became uneasy. I haven't heard these thoughts when I was given a chance 7 years ago. It was a choice I've made, to move forward. As I read through, I realized the kinds of books that I have come to appreciate are those that speak for me.
"It's not about being perfect, really. It's about… I don't know. Being in control."
"When my dad died, it was like everything felt really shaky, you know? And trying to be the best I could be, it gave me something to focus on. If I could just do everything right, then I was safe."
"I couldn't believe I was saying this, not here, at a party packed with classmates and strangers. In fact, I couldn't imagine saying it anywhere, really, except in my own head, where it somehow made sense."
I treat my books as a companion in my solitude. They take me to fancy dinner, dance with me at a party, pick me up and drove me home, I listen to their share of story and afterwards I take my turn to speak when I do the review. Perhaps, any book lover would understand the kind of high felt whenever surrounded by thousands of books or racks with neatly piled books. It was like a never-ending mystery, boundless journey.
What I appreciate about Sarah Dessen's books is that it talks about real issues and it somehow helps you deal with it.
"You're just setting yourself up to fail, because you'll never get everything perfect."
It doesn't preach in a judgmental kind of way, it touches the soul of the reader. Sarah Dessen has real talent; her books deserve no less than three stars.
If you want to know the truth about forever, you have to read this. It gave me a big smile when I found out.